Line of Accountability big name Martin Compston has denied making a song a tune concerning the IRA right through a meeting of Celtic supporters in Las Vegas.
Compston, who lives within the Nevada town together with his circle of relatives, was once filmed on degree at an match held through the North American Celtic Supporters Federation (NACSF).
In a video extensively shared on social media, the group sings concerning the "Irish Republican Military", including: "It is the I, I, I, IRA."
As they sing "IRA", Compston is observed showing to raise his left arm into the air.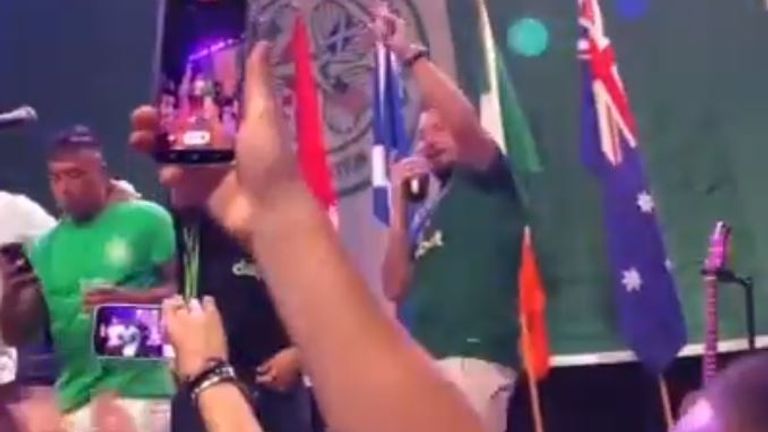 In a remark, the 38-year-old Scot, who performs Steve Arnott within the police drama, stated he "unequivocally didn't sing ANY sectarian songs".
He added: "I have labored in Belfast too lengthy (the place Line of Accountability is filmed) to look injury achieved to suppose these things is amusing."
Compston additionally referred to Daniel Boone's 1972 hit monitor, Stunning Sunday, which is steadily performed at Celtic Park.
He stated: "If it was once an IRA tune and I used to be onstage bobbing alongside I'd perceive the tale.
"However I am beautiful positive Daniel Boone had not anything greater than Stunning Sundays in thoughts when he wrote the tune and that's the reason what I used to be making a song."
Dave Scott, director of anti-sectarian charity Nil through Mouth, informed The Scottish Solar it was once a "beautiful miserable spectacle".
He added: "The ones concerned within the IRA chanting want to take an extended arduous have a look at themselves within the reflect. Those are adults – now not kids who may now not know any higher.
"The worst factor? Kids and younger folks may see this and now suppose that is utterly appropriate behaviour."
There have been some scathing feedback on social media. One particular person stated it was once "sickening", whilst some other stated it was once "completely unacceptable".